Or in the words of one of our Year 3 pupils, "the school of happy smiles"
Education at Downsend goes beyond examination success and the academic environment. When you give us your child to look after and nurture our aim is to inspire young minds, to instil a love of learning, to offer as many opportunities as possible to make sure natural talents are discovered and championed.
We want to inspire our pupils to engage in the world around them and think for themselves. Our pupils work hard and learn by getting actively involved in everything they do. It's not out of the ordinary to see the Battle of Hastings being re-enacted on the cricket pitch. A class investigating air resistance outdoors tied to parachutes. Or our Pre-Prep children acquiring number skills in Forest School.
Children are excited to come to school, parents tell us. Here, English, Science, Maths, Languages, Humanities, Art and Technology are being lifted off the pages of textbooks and worksheets with such creativity. Thanks to our highly skilled teachers.
Experiences that inspire young minds develop pupils who are happy, and when they are happy we know they learn, grow in confidence and become ambitious to excel.
'Inspiring Young Minds' is not just our motto. It is the heart and soul of our school. It guides our teachers, encourages our pupils to be the best they can be, shapes our creative and challenging curriculum, informs our diverse range of extra-curricular activities, and permeates our vibrant school life – both in and outside the classroom.
Our children have spark because we support them to take responsibility and engage in their own learning. Our approach works! We have a 100% success rate at Common Entrance and 136 senior school scholarship places have been awarded since 2014.
Our school website can't possibly bring Downsend to life for you like a real visit can. Come and hear the cheers on the rugby pitches, the instruments playing in the music pods, the excited voices in the science labs, the lively debates in lessons… you are very welcome to come and see our inspiring school for yourself.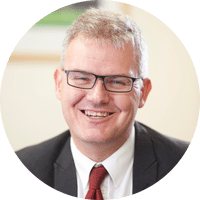 Ian Thorpe
Head Teacher