Celebrating Cricket at Downsend – Interview with Jon Albert – Assistant Head (Enrichment)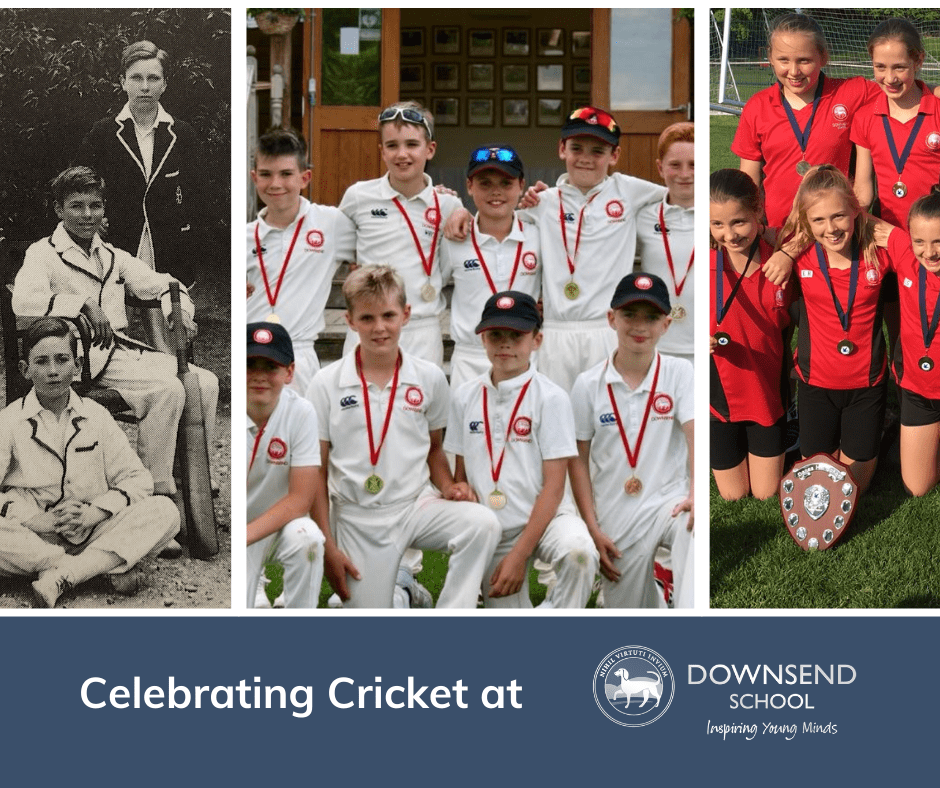 When did you first develop an interest in Cricket?
Growing up I was lucky to attend Parkside Preparatory School, where I played my first game of cricket age 10. Up to this point like many other boys, football was my sport of choice. However, my real passion for cricket developed further at City of London Freeman's School under the inspirational tutelage of Neil Stewart. During this time, I quickly progressed to represent the County and play for senior teams at Malden Wanderers Cricket Club.
How has cricket developed at Downsend since you started?
Downsend has always had a strong sporting reputation and through the excellent work of Mr Howe, Mr Dunning, and many more teachers over the years, cricket has enjoyed its fair share of success. With Downsend alumnus Dom Sibley opening the batting for England, along with many other promising Surrey County Cricket Club prospects, it is clear we are doing something right. Upon my arrival seven years ago, in the hope of continuing this success, my focus was on developing what we call 'the brilliant basics' starting in the younger year groups. I focussed on developing the fundamental hand-eye coordination skills through fun and engaging games and drills. Upskilling the Downsend Games department in this interactive approach to learning assisted us enormously with consistency through both curriculum time and in after-school clubs. I implemented this brilliant basic approach throughout all age groups and this not only considerably increased participation levels inside and outside of the school, it also created a pathway to elite level cricket, where we now see 13 Downsend pupils representing Surrey County Cricket Club in their performance programs including 3 girls for the first time this year. We were also the first school to be brave enough in the local area to drop Rounders and introduce a full Girl's Cricket Program, where Miss Seivewright and the Downsend girls have led the circuit with their cricketing success.
Tell us more about your involvement in teaching cricket to the local community?
Whilst doing Teacher Training at University I was also Surrey County Cricket Club's U12 lead coach. During this time I have had the pleasure of coaching Zafar Ansari, Dom Sibley, and Rory Burns to name a few….. I noticed through my own young boys the capabilities that could be taught to very small children. I've often had coaches tell me 'you can't teach a 5-year-old a sweep shot'- Yes you can! This is where Mini Crickets evolved. Focusing on children as young as two and a half, we are very proud of the recognition we have received in awards and nominations from Surrey County Cricket Club over the years including winning 'Outstanding Coaching Achievement' at The Oval in 2017. Mini Crickets was set up to inspire young children with a love of the game and in essence, compete against those more traditional sports such as football and rugby. We are delighted to be working locally with Leatherhead Cricket Club, Ashtead Cricket Club, Epsom Cricket Club, and Ewell Ruxley Cricket Club in providing them with our unique program for their youngsters. Last Summer we coached over 1000 local children the 'Mini Cricket' way! Along with my personal links, at Downsend we are delighted to be a Surrey County Cricket Club Development Centre, supporting the county in their performance and foundations programs. The success of Downsend's cricket over the last few years can most certainly be attributed to the close club partnerships we've worked exceptionally hard to build.
What does the future hold for cricket at Downsend?
The future for cricket at Downsend is exceptionally bright and is the envy of our local competitors. With our expansion of Years 9, 10 & 11 Mr Lawrence has plans for several new experiences on the horizon, from national competitions to overseas future sporting tours. I am personally looking forward to seeing the children I have taught from when they were in the Little Downsend's winning national senior school tournaments! Over the last few years Downsend has won endless cricket competitions including the Surrey Cup with our boys U11 Team last year. Our most exciting growth in terms of participation and quality is witnessed in our girls. Girls cricket is booming at Downsend, where several year groups remain undefeated and some girls already represent the county! Along with our own substantial indoor and outdoor facilities, we are delighted to have already secured great partnerships with 2 local cricket clubs, which will provide our pupils with even more access to grass wickets and net facilities in the future.
Do you have any cricket heroes? And why?
I enjoy coaching and previously playing the game, however being honest, I have never really watched a lot of cricket! That said, growing up I was always fascinated by the West Indies team. Luckily in my late teens I was asked to be a 'net bowler' prior to the West Indies vs England game at the Oval. Being used to warm up the batters in the nets, I could see first hand the pace of Curtly Ambrose and Courtney Walsh, as well as the power hitting and finesse of Brian Lara and Shivnarine Chanderpaul. Although I did take a few wickets, I mostly spent my time asking the guards to return my ball from the back of the stands!
If you could play any cricket pitch in the world which one would it be?
For those of you that know me well, I'm sure it won't come as a surprise that I love a little competition! I have always relished a challenge and especially enjoyed the hostile battle of a fast bowler trying to take my wicket or indeed 'pin' me a few times. Having already played in some great venues including Lords in a national club final, the stadium I would choose is the WACA (Western Australia Cricket Association) ground in Perth and ideally on a Boxing Day as part of a Test Match. Facing Mitchell Starc with a crowd of 20,000 plus fans rooting against me sounds like fun!
If you could put a fantasy cricket team together what players would you choose?
Jonny Bairstow
Rohit Sharma
Joe Root
Steve Smith
Virat Kohli
Ben Stokes
Jos Butler
Chris Woakes
Jofra Archer
Pat Cummings
Rashid Khan
Published on: 26th November 2020