Downsend School Epsom
Welcome,
A school is a family community. A place where children, parents and staff work together towards a shared goal: to build a pathway of academic discovery. Education starts on a child's first day at Pre-Prep Epsom through our story telling approach to learning. We Inspire Young Minds in a safe and happy environment, and motivate children to feel excited to learn.
One of the differences you will notice about us is that we have our very own Woodland Garden within our school grounds – a place to offer children wonderful opportunities to explore nature and wildlife first hand. We often enrich the Early Years curriculum and our structured learning programmes in literacy, numeracy and science by creating stimulating experiences for our children outside. We count, cook, act and play, measure rainfall and sort leaves by colour, size, variety and shape. We've made bird boxes and set up experiments to find out which animals live in our Woodland Garden and taken plaster casts of their footprints. It is possible to carry out most of these activities in our classrooms, but our children choose to slip on their waterproofs and wellies and investigate outside.
There is a marked difference in attitude and behaviour when children are working or simply playing in our Woodland Garden.  Since having this amazing facility, staff have noted acceleration in the development of the children's language and vocabulary – the building blocks of communication and the beginning of everything we learn.
Here at Pre-Prep Epsom, your child will be nurtured by specialists gently, creatively and academically. Please come and see for yourself how we are laying the foundations of education. You could not give your child a more rewarding and stimulating start.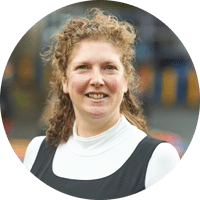 Vanessa Conlan
Head Teacher
We have specialist teachers in Music, French, and Dance for every child in the school.  We enhance the curriculum with Swimming and Sport for Reception and Year One.
98% of our children meet or exceed the Early Learning Goals vs a 69% national average at the end of Reception.
For First Steps and Rising Reception, we enrich learning with woodland activities, cookery, fabulous phonics, performance skills, physical activities and messy play.