Teacher Spotlight Series – Meet Maggie Hambleton – Head of Art, Design and Technology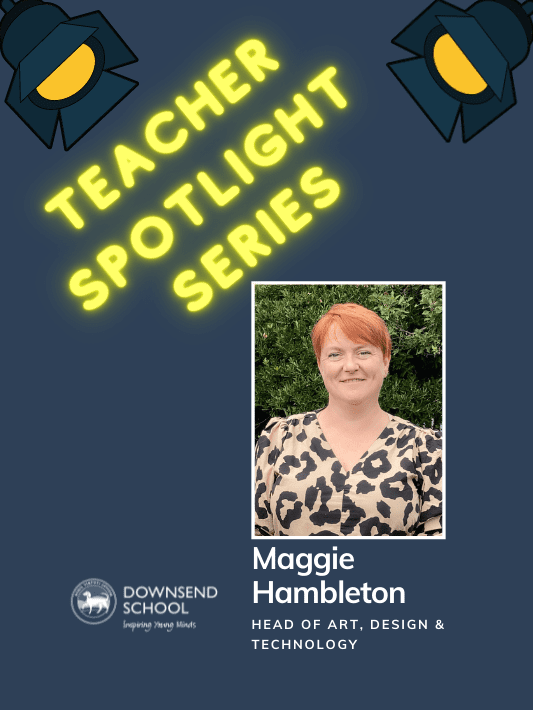 Welcome to this week's Teacher Spotlight. Today we are introducing you to Maggie Hambleton, who has recently joined the team at Downsend as Head of Art and Design.
Find out what Mrs Hambleton is loving about Downsend so far, including no longer being the littlest person around, as well as memories from her own woodwork classes in school, and some great inspirational snippets of advice for the students of today.
Can you tell us about your first day at Downsend? 
My first-day nerves quickly turned to excitement. This was my first post teaching in a 'through school' and I found it so heartwarming to see all ages in one arena, clearly enjoying school and the atmosphere. My career so far has been mostly teaching in senior schools so I just have to get used to seeing smaller people around!! Normally I'm the shortest! The department team has been fantastic in welcoming me and we are excited about the future growth and potential within the department.
What did you do before you joined Downsend? 
I worked at a school in Epsom as Head of RM. I have been a teacher for nearly 15 years. 
What's your best memory from school? 
My best memory from school was the Woodwork classes, I made a die from layers of different timbers, that I sanded and polished within an inch of its life! I was 11, I still have it and I'm nearly 50!…. I mean 40! 
If you could grow up in any decade, which would you choose and why? 
I think that's a hard one… maybe Victorian times in order to explore the Great Exhibition, discovering new inventions, arts and engineering, or the 1940's, though a war, it was a fundamental time in history that saw that women could contribute to the industry and do the jobs men could do! 
What's your all the time favourite book and why?  
Too many to choose from…..from my childhood 'The Twits' and Tom Sawyer stories. I absolutely love and read every year 'The God of Small Things' and 'Pride and Prejudice'………current favourite book 'The History of Ply'! 
 If you could pass on one piece of wisdom to your students, what would you share? 
It's ok to not know what you want to be when you grow up, just be true to your passions and interests and something will unfold. 
Is there a quote or saying that you live your life by? 
 Yes… it's a simple one… 'If you fall down, get up'. 
A fun fact we might not know about you? 
Exercise is my nemesis, however, my daughter convinced me to sign up to completing 150 mile cycle in September! I have 109 miles to go (I'm enjoying it!) 
Published on: 24th September 2021