From our pre-school nursery years: First Steps and Rising Reception through to Reception and Year 1, we inspire hands-on learning in our Pre-Prep family.
Why parents choose Downsend
While our educational approach 'Inspiring Young Minds' within each Pre-Prep in Leatherhead, Ashtead and Epsom is the same, each has its own unique setting, Head Teacher and staff. Only with a visit can you sense the buzz of purposeful learning as you walk round and see the children busily engaged. Recorders playing, children singing, biscuits baking, magic carpets flying, come and see us in action in our bright and colourful classrooms.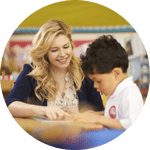 There is a feeling of being part of a family at each school; class sizes are kept small which means we are able to offer a personalised learning programme for each child.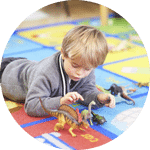 We provide imaginative ways of acquiring numeracy and literacy skills; we grow potatoes, hatch chickens, dig for dinosaurs… stimulating curiosity and imagination.
Our teachers are highly skilled in early years' development and experienced at embedding a solid educational foundation. Children are confident learners when they leave us well prepared for the next exciting stage.
1:4
Excellent child teacher ratio in First Steps provides personalised learning.
1:8 (on average)
Excellent child teacher ratio in Rising Reception, Reception and Year 1 inspires children to exceed expectations.
98%
of our children meet or exceed the Early Learning Goals.
17% & 19%
Higher achievement in English and Maths than the national average. *
(*As measured by the national GL Progress Tests – standard average age scores of 117 in English and 119 Maths for Downsend Pre-Prep Schools vs national average of 100.)
The start of your child's educational journey
Each Pre-Prep offers two pre-school nursery years: First Steps and Rising Reception and full time school in Reception and Year One.  From the age of 2 – 6 years, inspiring children academically and nurturing their individual talents are given equal focus and respect.
During these precious formative years, we embed the foundation of learning; young brains are growing at a phenomenal rate, everything we do, from French to fun, from Science to Yoganory, they soak up like a sponge.
As confidence grows and children come to us full time, their eagerness for learning is satisfied by an exciting and varied curriculum and a more structured approach. They are becoming readers, and writers, thinkers and innovators; it inspires us to see them well prepared for the next stage of their educational journey at Downsend.
We build solid foundations in literacy, numeracy and science from an early age.
We enrich our learning programmes with specialist teaching from the age of 2.
We introduce children to a broader curriculum including History, Geography, French, Religious Studies, Computing, Sport, Music and Drama.
Children swim, play instruments, enjoy a rich programme of PE and games, and after school clubs.
We provide a network of family support with wrap around care before and after school.