Teacher Spotlight – Meet Charlie Gibbons – Head of Science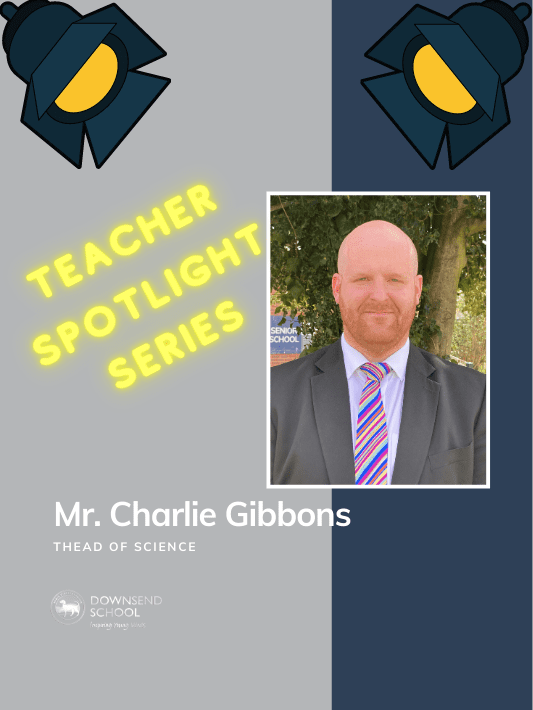 At Downsend, we are lucky to have some of the very best teachers who are dedicated to providing every child with the most innovative and inspiring learning experience. This term we welcomed one new teacher with a rich and varied educational background and we wanted to welcome him to the Downsend community. Ladies and gentlemen meet Charlie Gibbons, our new Head of Science!
Welcome to Downsend! How was your first day at Downsend? 
When I started I was naturally nervous, but the staff and students were extremely helpful in finding my way around and getting to understand the different systems and routines in place at Downsend.
What did you do before you joined Downsend?
Before Downsend, I was a Director of Learning for Science at a school in East London.  Prior to that I was Head of science at a school Kingston.
What's your best memory from school?
When I was at school I tried to get involved in as many clubs as possible, I was a member of the water polo team and in the CCF.  I particularly enjoyed the trips away to airfields where we got to fly light aircraft and gliders.  Academically, my passion was always Science and Maths which is why that was going to be my chosen subject when I became a teacher.  My teachers used to get frustrated with the amount of questions I used to ask and its great to see,  a similar way, so many students interested in Science so far in my first lessons.
If you could grow up in any decade, which would you choose and why?
I'm particularly excited about the future and what discoveries and developments there will be, so perhaps a slightly odd answer, but I think I'd like to grow up 100 years from now to see how we have advanced
What's your all the time favourite movie and why?
There are too many to chose from.  As there are 3 of them I'd have to say The Godfather.
If you could pass on one piece of wisdom to your students, what would you share?
Our time in secondary school is a fraction of the rest of your lives.  Make the most of your time, don't waste it and prepare yourself for the opportunities that are waiting after it.
Is there a quote or saying that you live your life by?
"When he worked, he really worked. But when he played, he really PLAYED."
― Dr. Seuss
Published on: 30th April 2021