Teacher Spotlight – Mike Underwood – Head of Computing and Year 7 Form Tutor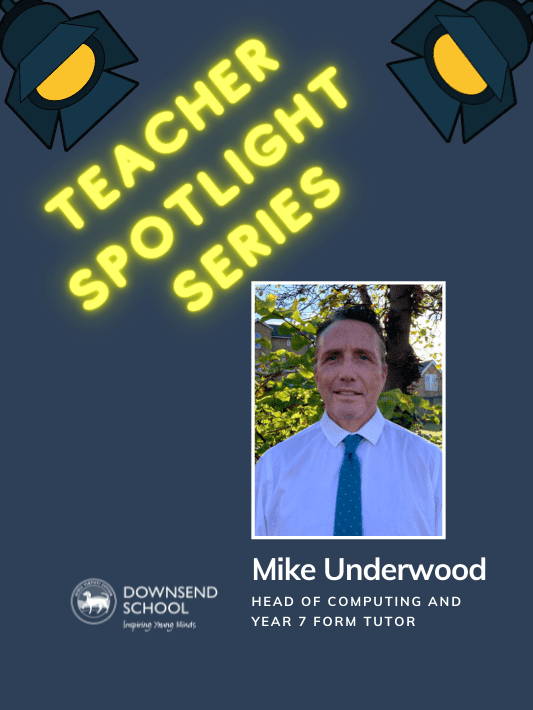 In our latest instalment of the Teacher Spotlight Series please meet Mr Mike Underwood, who joined us last September as Head of Computing and is also one of our fantastic Year 7 form tutors. Welcome to Downsend Mr Underwood and thank you for a great chat.
Can you tell us about your first day at Downsend?
What I can remember from my first day is the incredible buzz from everyone around the school. From the teachers and students to the kitchen and cleaning teams to senior leadership, everyone was so positive and friendly that I felt as if I had been working at Downsend for years.
What did you do before you joined Downsend?
I first worked in advertising in NYC before joining the marketing team at the Minneapolis Star-Tribune newspaper in Minnesota. I then spent four years in Richmond, Virginia as a stay-at-home dad looking after my two young children. After moving to the UK in 2004 I worked for an IT support company in London before deciding to enter the teaching profession 10 years ago.
What's your best memory from school?
One was reaching the New Jersey state baseball finals my senior year. Unfortunately, our team fell to a future major league pitcher whose fastball was needless to say, very hard to catch up with!
Another memory had to be the senior year ritual of going to the Jersey Shore with friends after graduation. A fun time had by all!
If you could grow up in any decade, which would you choose and why?
I think the 60's would have been a lot of fun!
What's your all the time favourite book and why? 
The World According to Garp, by John Irving because it was the inspiration for me to make the unconventional decision (at the time) to give up work and look after my two young children (which turned out to be my hardest job ever!).
If you could pass on one piece of wisdom to your students, what would you share?
A life lived in fear is a life half lived.
Is there a quote or saying that you live your life by?
The corollary to "If it isn't broke, don't fix it", I try to live by, "If you don't keep fixing it, it will break"
A fun fact we might not know about you?
While working as a waiter while at university in Washington, DC, I was disappointed one evening when a couple ran out on their check (bill) which meant I would have to pay the bar the $40. After doing some investigative work with the customers nearby I discovered one of the suspects was interning for the US Senator from California at the time, Pete Wilson. The next day I walked to the Hart Senate Office Building in my bar uniform with the check-in hand and entered Senator Wilson's office (security was very lax back then). After explaining the situation to the surprised Intern Director, the culprit came out of an adjoining office looking quite nervous and surprised. In the end, he not only paid the check but also gave me a $40 tip!
Published on: 12th November 2021