Teacher Spotlight – Miss Wilby – Year 3 Teacher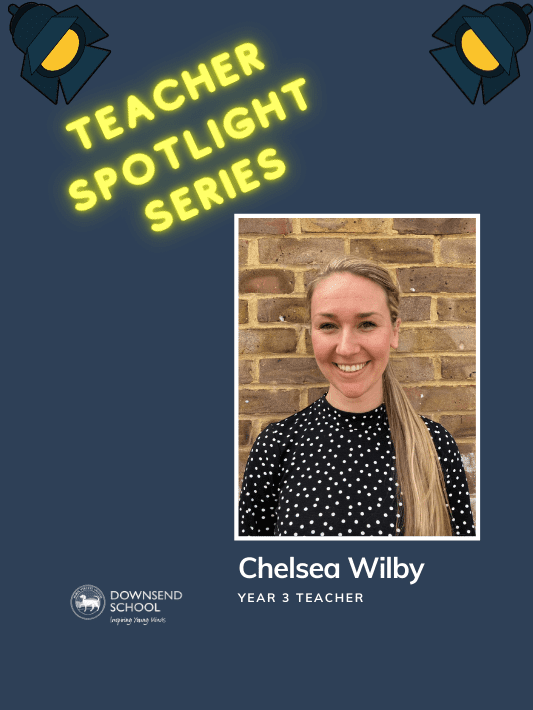 Do you remember your first day at Downsend? Can you tell us how was it?
My first day at Downsend was actually back when I was 7 years old as I was lucky enough to spend my primary school years here.
Returning as a teacher was both exciting and daunting. Mrs Temlett and I started in Year 2 together and instantly got on which made my first day extra special. It was such a whirlwind with so many different things going on! Everyone was so welcoming and supportive which helped us settle in very quickly.
What did you do before you joined Downsend?
Before I joined Downsend, I worked at Claremont Fan Court School in Esher. I started teaching in Reception which I loved – it's such a magical point in education. I then moved into Year 1 to gain KS1 experience before joining the Year 2 team at Downsend.
What's your best memory from school?
I loved school and the friendships I made throughout my education. I am most thankful for being inspired to get into swimming during my time at Downsend. I had a wonderful sports teacher called Miss Harris who asked me to swim in a swimming gala last minute when someone was ill. I was completely hooked and very quickly got into competitive swimming. (Miss Seivewright let me know that my team still holds a Downsend school record!) I swam competitively until the age of 16 and then completed my swim teaching qualifications. It was my love of swim teaching that made me decide to study Primary Teaching at University. I have a lot to thank Miss Harris for!
If you could grow up in any decade, which would you choose and why?
I loved the decade I grew up in so wouldn't change it! I enjoyed growing up without the pressures of social media – my childhood was full of outdoor adventures and lots of sports.
What's your all the time favourite movie and why?
The Greatest Showman – I think I know every song by heart!
If you could pass on one piece of wisdom to your students, what would you share?
Enjoy every moment of being in school and take every opportunity that comes your way. Your school days will be such special memories when you are older.
Is there a quote or saying that you live your life by?
I love Roald Dahl stories and this always makes me smile:
A fun fact we might not know about you?
I've signed up to run the Manchester marathon this year. It's been on my bucket list for years…
Published on: 21st May 2021