Teacher Spotlight – Rebecca Hurley – Teacher of PE and Games – Year 9 Form Tutor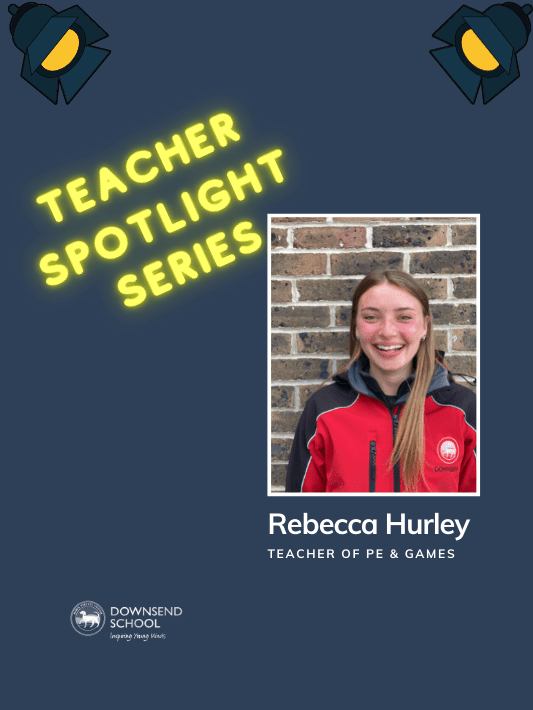 Do you remember your first day at Downsend? Can you tell us how it was?
My first day at Downsend was brilliant. I had a very warm welcome from all the staff, pupils and especially from my PE department. To be honest, the first day feels so long ago I can't really remember too much! I was very excited to meet my Year 9 form for the first time who were all lovely and showed great energy. The day was busy and we were straight out onto the astro to teach hockey in the beautiful sunshine.
What did you do before you joined Downsend?
Leaving school in 2016, I went straight to St Marys University in Twickenham to follow my ambition of being a PE teacher. I studied Physical Education for 3 years as an undergraduate and then did a PGCE the following year, teaching at two placement schools.
What's your best memory from school?
I really enjoyed being at school. The opportunities I received were amazing and I am so grateful to have been given the chance to experience these. Sport played a big part in my school experience. I used to compete in A teams for over 7 different sports. We would compete across many counties and regions in various fixtures and tournaments. Sports tours were one of the best memories of school. We toured to Barcelona, Amsterdam and Sri Lanka for hockey which were incredibly fun! I would not be the person I am today without my amazing teachers and the PE department at my school who challenged me in order to reach my maximum potential.
If you could grow up in any decade, which would you choose and why?
I would not change the decade I grew up in. I have some of the most amazing friends who I met from school and still see almost every week now! Although technology has so many positives, I am glad that technology was not such a major part of life in the early 2000's so I could enjoy hanging out with my friends and playing sport more often
What's your all the time favourite movie and why?
That is a difficult question to answer… I am going to say 'Happy Gilmore'. This film never fails to make me laugh but also puts across a message highlighting the importance of trying new things as you never know how good you may be!
If you could pass on one piece of wisdom to your students, what would you share?
No matter what ability you are, you can always try your best and achieve. You should always have confidence in yourself and learn not to compare yourself to others. You are an individual so believe you can do it.
Is there a quote or saying that you live your life by?
'Winners don't quit, quitters don't win.'
A fun fact we might not know about you?
When I was in Year 6, I performed my gymnastics routine in front of ex-Olympian Beth Tweddle and the whole school at the opening ceremony of our sports hall. I have never been so nervous but enjoyed it greatly.
Published on: 14th May 2021