Teacher Spotlight – Sarah Newnham – Year 3 Form Tutor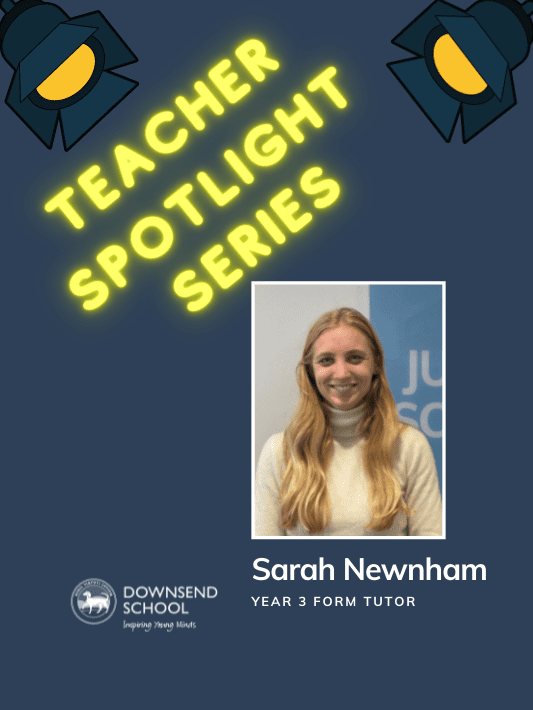 Hello and welcome to the latest instalment of our Teacher Spotlight Series.  Today we'd love to introduce you to Sarah Newnham, who joined us last September as a Year 3 form tutor. Welcome to Downsend Sarah!
Can you tell us about your first day at Downsend?
My first day at Downsend was a whirlwind of smiles, excited children and being led by my class to lunch as my sense of direction had not kicked in yet with such a big campus! I had been in contact with the other amazing teachers in Year 3 over the summer so instantly felt welcomed and part of the Downsend family.
What did you do before you joined Downsend?
Before joining Downsend I worked as a Year 4 teacher at St George's Bickley in Bromley for three years. Prior to my teaching life, I worked as an Account Manager for Roxhill, a media database which was dangerously positioned near Borough Market. It almost bankrupt me from all the delicious lunch options!
What's your best memory from school?
What a tricky question…to say I loved my prep school would be an understatement. I cried when I got chicken pox as I didn't want to miss out! We used to play whole school games of sardines on the school grounds so I have fond memories of hiding in the woods with groups of friends awaiting to be found!
If you could grow up in any decade, which would you choose and why?
I studied Classics at university so I would love to go back to either ancient Greece or Rome to see what it was really like. It would be amazing to go and watch one of Aristophanes's plays or watch as the Spartan 300 took their last stand against the Persian army.
What's your all the time favourite book and why?
I love anything written by Khalid Hussain, in particular, a book called 'And the Mountains Echoed'. His writing enlightens a conflicted and complex picture of his origin country, Afghanistan – a country I would very much like to visit one day.
If you could pass on one piece of wisdom to your students, what would you share?
Don't stress! Things can seem like such a big deal when you are growing up but it will all turn out ok.
Is there a quote or saying that you live your life by?
'Health, wealth, and happiness.'
Something that we might not know about you?
I was adopted from Romania when I was 3 months old and love going back to visit all the amazing people my parents met when they came to collect me. It is such a beautiful country. I have also swam with sharks!
Published on: 8th October 2021