Teacher Spotlight Series – Marcus Bell – Teacher of PE and Games (Football) and Y9 Form Tutor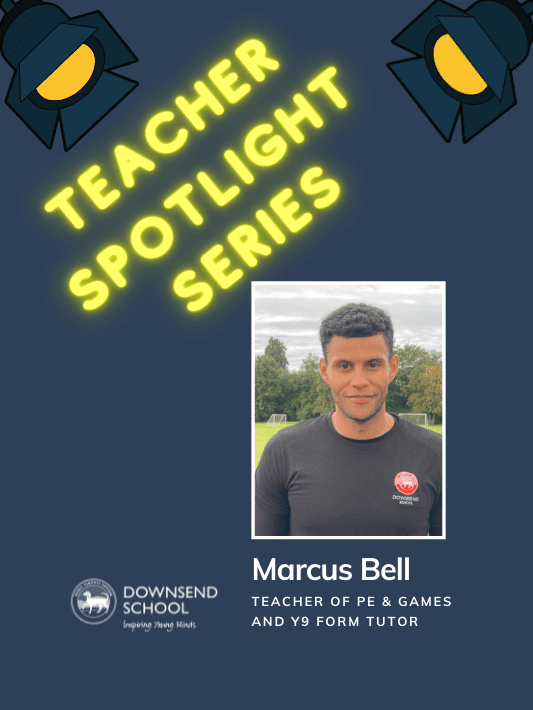 Welcome to our latest installment of the Teacher Spotlight Series. This week we'd like to introduce you to Marcus Bell, Sports and PE teacher and also Y9 Tutor, a Manchester United supporter who joined Downsend from Shanghai with a pit stop via Birmingham and whose passion for football started in the 1990s and still going strong.
Can you tell us about your first day at Downsend? 
I visited Downsend before my first day as a teacher at the school to meet Mr Thorpe, Mr Lawrence and the rest of the PE & Games team as well as to put on a football lesson for a small group of year 5 pupils. I was made to feel extremely welcome by everyone that I met which was extended by every pupil and teacher I met on the first day of term this year.
What did you do before you joined Downsend?
Before joining Downsend I completed a Master's degree in sport science and went on to work abroad as a football coach and sport scientist. Returning to England due to Covid-19 I then completed my teacher training at the University of Birmingham before joining Downsend in September 2021.
What's your best memory from school? 
I have many great memories of school such as the school trips and sports fixtures. My best memory however would be my sixth form results day and finding out that all the hard work I had put in had paid off.  
If you could grow up in any decade, which would you choose and why? 
I would most likely stick with the 90's as it is still the period with my favourite music as well as being a great time to grow up as a football fan.
What's your all the time favourite book and why? 
I really enjoy reading non-fiction in particular autobiographies. If I had to choose one, my favourite would probably be the Autobiography of Malcolm X.
If you could pass on one piece of wisdom to your students, what would you share? 
Travel as often as you can, explore new places and learn about different cultures.
Is there a quote or saying that you live your life by? 
"I've missed more than 9,000 shots in my career. I've lost almost 300 games. Twenty-six times I've been trusted to take the game-winning shot and missed. I've failed over and over and over again in my life. And that is why I succeed." – Michael Jordan  
A fun fact we might not know about you?
I have been fortunate enough to live in multiple countries most recently spending just over 2 years living and working in Shanghai, China.
Published on: 1st October 2021