Teacher Spotlight Series – Matthew Rowden – Teacher of Science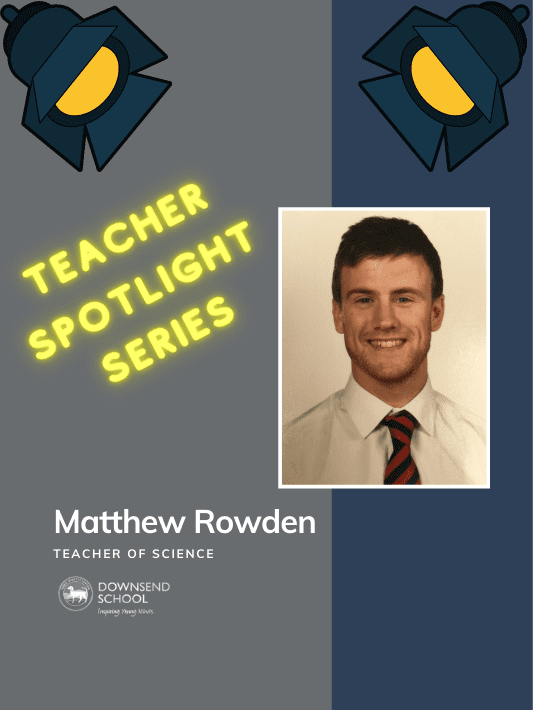 In this week's Teacher Spotlight Series,  we are introducing Mr. Matthew Rowden, Science Teacher, who joined Downsend in September 2020.  At Downsend, we are lucky to have some of the very best teachers who are dedicated to providing every child the most innovative and inspiring learning experience.
Do you remember your first day at Downsend? Can you tell us how was it?
I can't remember much. It was in September 2020 just as schools were reopening after the summer lockdown, so there was a lot more to think about than the usual start of a school year. Everyone was very welcoming though.
What did you do before you joined Downsend?
I've had been teaching science in Surrey and SW London for 7 years.
What's your best memory from school?
Designing and making things in technology.
If you could grow up in any decade, which would you choose and why?
The one I grew up in. I was born in 1987 so most of my childhood was the 1990's and 2000's, when the major advancements in technology like laptops, game consoles and mobile phones happened.
What's your all the time favourite movie and why?
The Greatest Showman. A fantastic success story with an amazing soundtrack.
If you could pass on one piece of wisdom to your students, what would you share?
Success is never owned. Success is rented. You only rent success for a limited period of time. Success doesn't last forever. It's an ongoing process that you have to work hard on every day.
Is there a quote or saying that you live your life by?
"Opportunities are usually disguised as hard work, so most people don't recognise them."
A fun fact we might not know about you?
I started skydiving when I was at university, and have completed about 270 jumps.
Published on: 12th March 2021