What's that you're reading? Mrs. Kirkham, Head of Junior School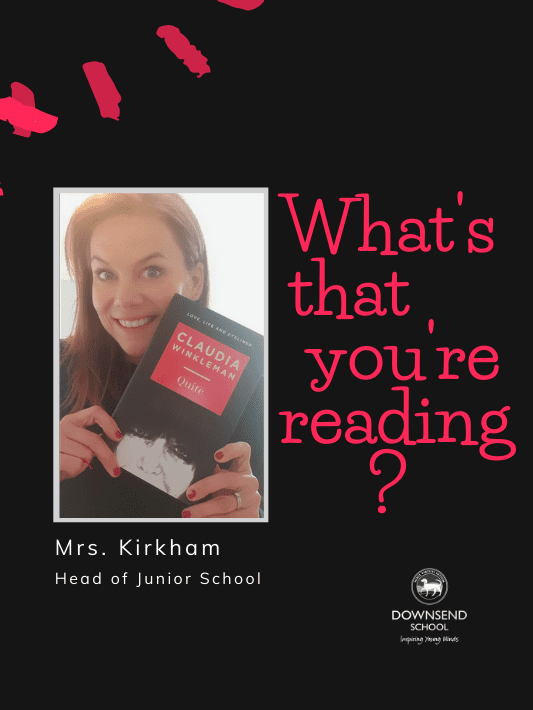 At Downsend we love our books, so we decided to launch a new weekly series: 'What's That You're Reading?'. We will work our way around the Downsend team to find out who's reading what, and what they think of it! Keep an eye on our social media feed each Wednesday and you might even find some great ideas for your own reading list. We hope you will enjoy! Today we are starting our new series with our Head of Junior School, Mrs. Kirkham.
What are you reading at the moment?

I have just finished reading 'Quite' by Claudia Winkleman. My family adore her, based mainly on my favourite TV show, 'The Great British Sewing Bee' which she presented for a time, and my daughter Cleo's, 'Strictly Come Dancing'. We all adore her quick wit, her slightly flippant manner and her way of putting things in perspective. It's a book about lots of different subjects and ideas and what TV presenter – she refers to presenting as 'reading out loud for money' – Claudia thinks of them. Her topics include things that are important to her, things that are inconvenient and truths about adult life. Claudia never takes herself too seriously and I try to do the same!
Would you recommend it to the Downsend community and why?
Parents would adore this book at the moment, owing to its light-heartedness and good humour. It is a tonic at the end of the day and made me laugh out loud often. Of course, if you do not like Claudia Winkleman, I would avoid it!
Do you see elements of yourself in any of the characters?
As a non-fiction book, there are not characters really but Claudia and I share quite a lot of views, mostly on eye-liner and black clothing – good, white sofas and boring dinner parties– bad, and nurses – the greatest people who walk the earth!
Did it make you cry? Or laugh? Or think?
It made me laugh often and really reflect on things all the way through. Claudia is opinionated in the kindest way and really has clarity and frankness about how she thinks. I adored reading this book and finished it in about three sittings.
Please share your favourite quote or a short extract from the book.
Why/when do you read?
I read all the time. It is not uncommon for me to have three or four books on the go at one time, in addition to the books I read with my children at bedtime. I read them depending on my mood and what I need. Do I need to feel more cheery? Do I need to escape to distant shores? Do I need to learn more on a given topic? There's a book for every occasion and every mood and you never regret picking up a good book and getting stuck in!
What is your favourite children's book? Did you have a favourite book or author, growing up?
It is impossible to choose my favourite children's book. As a former Head of English, I adore so many children's books and am completely addicted to them! I especially love picture books and am sad that my son, Arthur, is moving to chapter books now. Some of my favourite picture books of the last few years are 'The Secret of Black Rock' by Joe Todd-Stanton, 'Little Rabbit Not Lost' by John Bond and 'Be more Bernard' by Simon Philip. I also adore the 'Little People' series of books about amazing figures in history and my favourites are Frida Kahlo and David Bowie. For an older reader, I love classic stories. Cleo and I have just finished 'Swiss Family Robinson' by Johann David Wyss and are now enjoying 'The Borrowers' by Mary Norton. I also love Michael Morpurgo and my favourite of his books is 'Kaspar; Prince of Cats'.
Name a book that's had a lasting impression on you and explain why?
The adult book that really made an impression on me was 'Driving over Lemons'. I love reading about adventures and this book is about a man who moves with his wife to Spain to start a new life in a remote landscape. I love to dream about being bold enough to be able to do this! I also adored Phyllida Law's 'Notes to my mother-in-law' which is a compilation of real notes written between Phyllida and her mother-in-law when they lived together in her dotage. Some are as simple as notes about appointments at the doctor or dentist or about lost jigsaw puzzle pieces, others more poignant about the loss of relatives and the impact on the family. As someone who was blessed to have the most wonderful mother-in-law, I adored the kindness and little joys in this book, which has really stayed with me. Finally, I loved 'The Secret History' by Donna Tartt set in an American university amongst Classics students, they try to find enlightenment and come rather unstuck along the way. A fantastic read, especially if you like classics references.
Published on: 17th February 2021