What's that you're reading ? – Mrs. Skitt – Head of Humanities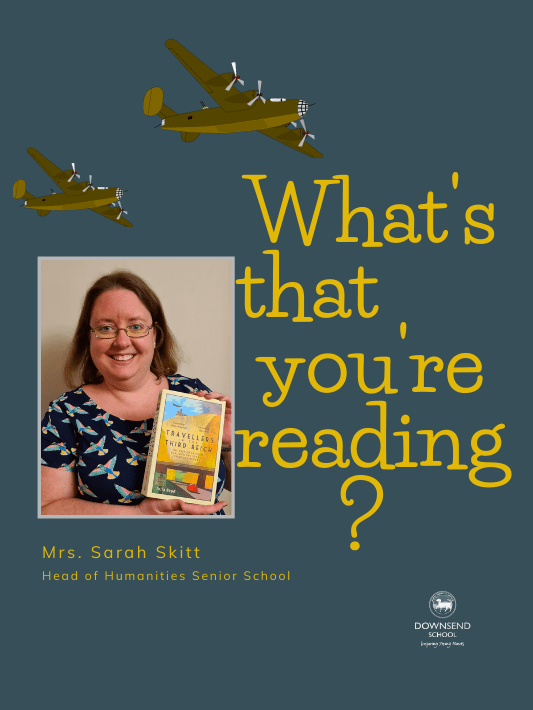 Welcome to our latest installment of  "What's that you're reading?" series where we are hearing from Downsend staff about their latest reads. Today we are hearing from Mrs. Skitt , Head of Humanities. 
What are you reading at the moment? 
Unsurprisingly I am reading a History book!  It's called 'Travellers in the Third Reich' and it is a collection of first hand accounts of how Germany was changing under the rule of Hitler and the Nazis.  It is particularly poignant as it demonstrates how easy it is for ridicule and seemingly small acts of bullying to descend into persecution of certain groups in society. 
Did it make you cry? Or laugh? Or think? 
The book has made me cry and think.  I cry for the deeply moving accounts of human suffering and sacrifice that occurred during this time and for those who could see what was happening was wrong but were largely powerless to prevent it.  It also makes me think as it tells of an event many of us are familiar with but from the human and ordinary level.  The stories are diary entries or letters written by ordinary people who are accidental witnesses to one of the darkest events in history.  I always find historical accounts written from a first- hand and individual account are much more resonant.  
What is your favourite children's book? Did you have a favourite book or author, growing up? 
I always loved reading as a child and it is now one of my greatest pleasures with my own children.  No matter how busy the day has been we always stop for a story with the children before they go to bed.  As they are now 5 and 8 it is wonderful to be able to share some of my childhood favourites such as Charlotte's Web, the Superfudge series by Judy Blum and Roald Dahl's classics.  I've also become a real fan of Julia Donaldson, which is good as they remain firm favourites in our house! 
Name a book that's had a lasting impression on you and tell us why? ' 
It would have to be the Diary of Anne Frank.  I think for me it started my fascination with seeing history and world events from the perspective of 'ordinary people'.  For me this makes the whole event so much richer and more vivid.  It probably also inspired my love and interest in all things historical! 
Published on: 21st April 2021