What's that you're reading? – Mrs Sue Wood – HR Administrator Downsend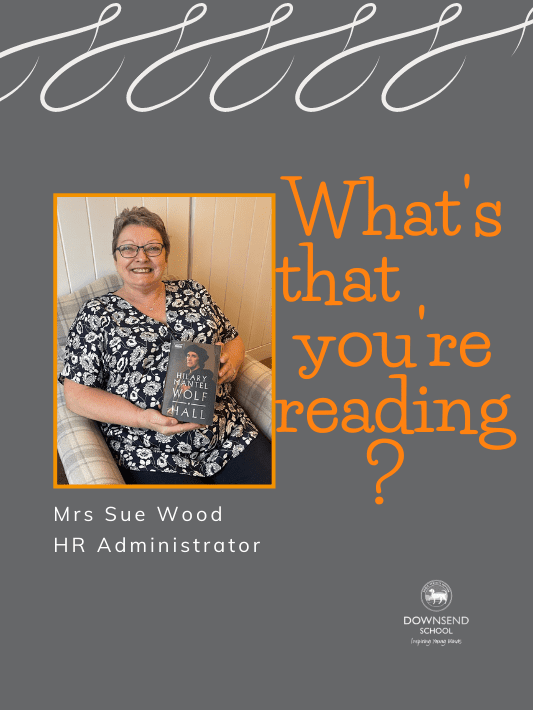 What are you reading at the moment?
Wolf Hall by Hilary Mantel
This is about Oliver Cromwell who rose from being the son of a blacksmith to become the main advisor to Henry VIII.
He was a powerful and ruthless man and yet comes across as caring by handing out food every evening to people waiting at his gate. He also took in the children of family and friends if their parents died and cared for and educated them. Not the picture you imagine of the man behind the execution of Ann Boleyn.
Would you recommend it to the Downsend community and why?
If you love history and particularly the Tudor era then it is well worth a read.
Did it make you cry? Or laugh? Or think? Why?
It made me understand why the Church of England was founded so that Henry could get his own way!
Why/when do you read?
The problem is when I get into a good book I do not want to stop, so I have to make sure I have some free time before I start one!
I used to get in trouble as a child for reading late into the night. I used to pretend to be asleep when my parents came in the room and carry on reading by torchlight under the covers!
How does reading help you?
I find it absorbing and relaxing and it takes me to a different place
Where I forget about everything else going on around me.
Is there a particular genre of book you find yourself drawn to?
I love all genres! Fiction, non-fiction, romance, magical, historical, murder mysteries, biographies.
What is your favourite children's book? Did you have a favourite book or author, growing up?
I was given a leather bound copy of Jane Eyre as a prize and still have it to this day.
Published on: 5th May 2021