Year 7 Trip to Normandy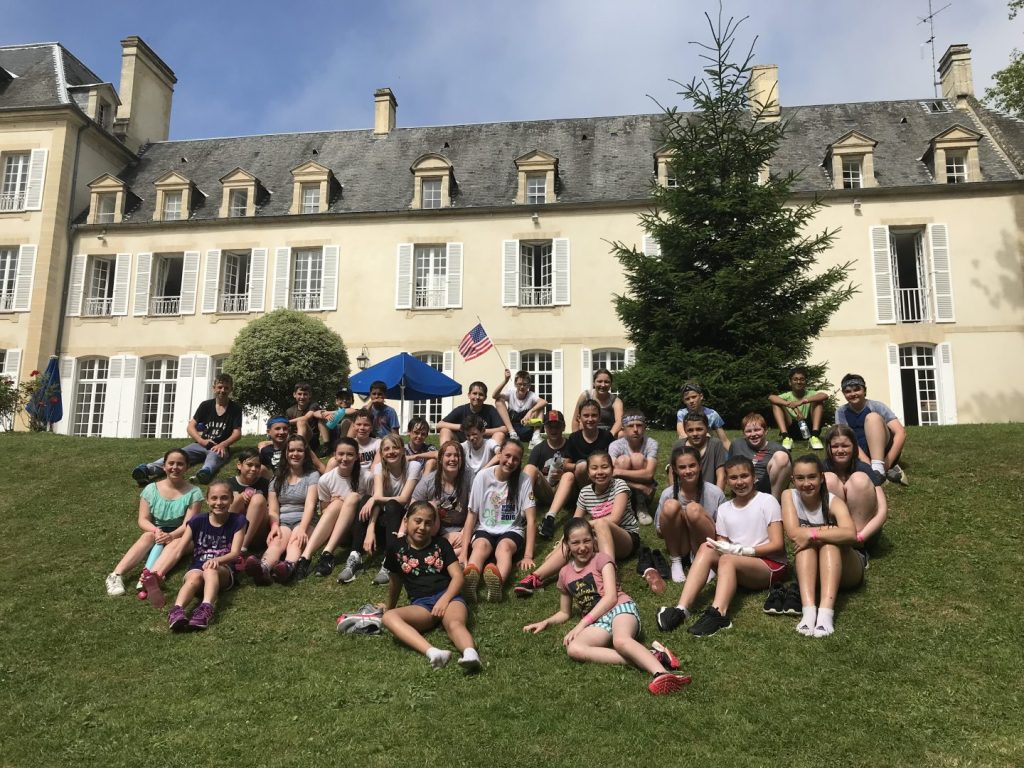 Year 7 spent a sunny week in the beautiful Chateau du Baffy in Normandy. Our first full day was an historic one; we enjoyed learning about the events of the D-Day landings in WW2 at the Bayeux Memorial Museum followed by a reflective visit to the Bayeux British War Cemetery. The children spent time looking through the record books of fallen soldiers and wandered round the graves looking for family names. At Arromanche-les-Bains we enjoyed ice creams and a picnic lunch on Gold Beach as well as a quick paddle in the sea. The visit to the 360 cinema brought the history to life with vivid images and film that the children will never forget. We ended the day with a rather competitive French quiz.
Day 2 was French history, culture and cuisine of the local town, Bayeux. Not only did the children enjoy seeing the Bayeux tapestry, depicting the Battle of Hastings in 1066, they also had the opportunity to use their French when buying fresh produce at the market, in readiness to prepare their own feast back at the chateau. This proved to be a highlight of the trip for some students. In the heat of the day we cooled down with an inter class mini-olympics which involved a great deal of water! 7RH were triumphant and Mrs Mercer congratulated them with a major soaking from the water hose. Somehow… we all ended up rather wet after a mass water fight! The day was topped off with a campfire and hot chocolate singing various songs, even one in French!
Day 3 saw a popular visit to the Petit Chef Academy where we made and shaped our own baguettes attempted to make our own crepes. They were devoured quickly before our visit to Juno Beach. We enjoyed a beach picnic followed by beach games and more wave jumping. The afternoon finished with a competitive bowling session, especially amongst the staff, and an ice cream. After spending at least an hour getting ready for our Celebration evening the children were dressed to impress (and a little bit of make-up) for dinner. Once prizes were awarded it was time for dancing. We danced the night away to various requests including some old favourites that got everyone up, until it was time for bed.
It was a wonderful week where memories were made and so much fun was had. The children were superbly behaved, entertaining to be around and an absolute credit to the school. Well done Year 7!
Quotes from Year 7 pupils
'The Mini-Olympics was the best downtime activity as it was really competitive and I loved it when we all got very wet.' Harry G
'My favourite educational activity was the British Cemetery because as soon as we entered, the tone of Year 7 suddenly turned calm and reflective. I also liked trying to find your family name on a grave.' Zoe S
'I loved the baking; it was so fun to make and shape the bread. I also learned how to flip a crepe without breaking it. It was the best residential ever!' Katherine V
'My favourite activity was the British Cemetery because I enjoyed looking for relatives who have died fighting in the war for our country. It felt very heart-warming to know that everyday day each grave is taken care of by a team.' Kristy M
Lundi
Je me suis levé tôt. Nous sommes partis de Downsend à six heures et nous sommes arrivés au château en France à seize heures. J'ai partagé la chambre avec mes amis. J'étais très fatigué!
Mardi
Nous sommes allés au musée de guerre et nous avons visité la cimetière.  Nous avons mangé le déjeuner sur la plage.
Mercredi
Nous sommes allé(e)s au marché à Bayeux où nous avons acheté le déjeuner.
J'ai acheté (du pain, du fromage, du jambon, du salami).  C'était très bon.
Après nous avons visité la Tapisserie de Bayeux.  C'était magnifique!  Le soir nous avons joué aux jeux olympiques au château.
Jeudi
Nous avons visité une boulangerie et nous avons fait du pain. C'était délicieux!  Après, nous avons joué sur la plage encore une fois.  Le soir nous avons joué au bowling.
Vendredi
Après le petit déjeuner, nous sommes partis pour rentrer en car en Angleterre.  J'ai passé une semaine avec mes amis et mes profs en Normandie. C'était super!
Écrit par:  Sofia, Joanna, Ava, Ben, Sonny, Warren, Lachie, Jack, Ed, Thomas
Published on: 28th June 2018