Teacher Spotlight – Emma Magee – Teacher of PE and Games and Year 7 Support Tutor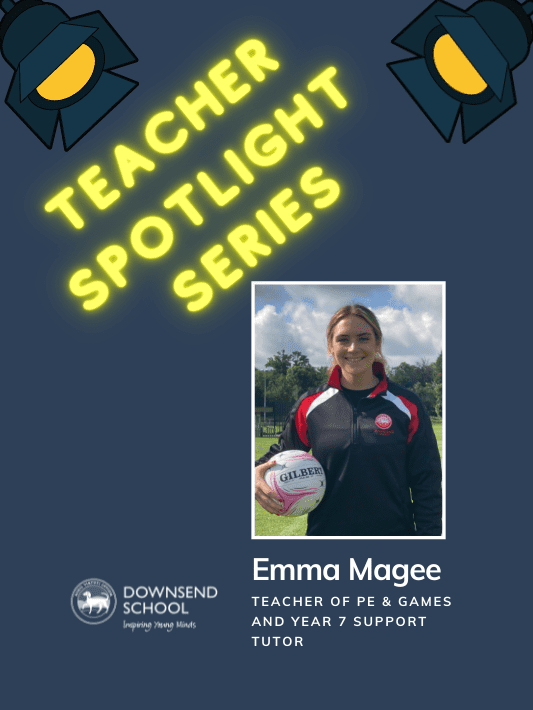 Welcome to our latest instalment of the Teacher Spotlight Series where we are meeting with our sports teacher and Year 7 support tutor, Emma Magee, super-talented Northern Ireland international netball player and attacker that currently plays for Surrey Storm.
Can you tell us about your first day at Downsend?
My first day at Downsend was brilliant, I was super excited to get started. I met all the amazing staff who were so friendly and welcoming which made it much more enjoyable.
What did you do before you joined Downsend?
After university, I went to do my teacher training at Sedbergh School. I was there for two years before coming to Downsend.
What's your best memory from school?
I have a lot of cool memories from school, but my favourite by far was when my Gaelic team won the U16A Ulster Final. We had been in the same team since we started the school, so we were all great friends who all trained hard, this is what made it even more special.
If you could grow up in any decade, which would you choose and why?
I don't think I would change the decade I was born in. I loved growing up in the late 90s and also witnessing how quickly technology grew.
What's your all the time favourite book and why?
'The Green Platform' by Declan Coyle is my favourite book which encourages you to shift your mindset when it comes to personal life, business and in sport. It has really changed my perspective and helped me a lot when playing sport.
If you could pass on one piece of wisdom to your students, what would you share?
Being comfortable with being uncomfortable because that is when the real growth happens.
Is there a quote or saying that you live your life by?
I absolutely love the quote "Do not judge me by my successes; judge me by how many times I have fell down, and got back up again" Nelson Mandela as it applies to absolutely everything in life.
A fun fact we might not know about you?
I have a younger sister that also plays SuperLeague Netball and who is my team mate on the Northern Ireland team. We also play for the same Gaelic club and county back home.
Published on: 5th November 2021