The Creative Arts are a fundamental part of what Downsend has to offer, as we firmly believe that integrating the arts into traditional academia brings significant benefits to a child's cognitive growth, to their enjoyment of learning and ultimately to their educational outcomes.
This is why a significant investment of £5m has been agreed to provide a multi-purpose performance auditorium with tiered seating for 200, black box drama studio, multi-purpose teaching space equipped with the latest technology and a recording studio.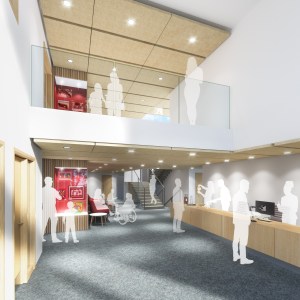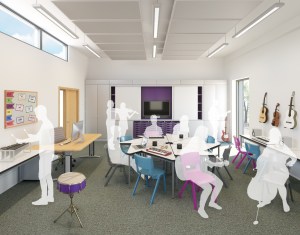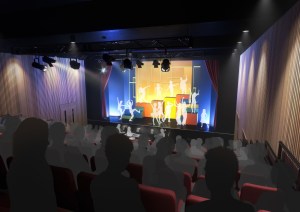 Although drama, music, art and design are the timetabled subject areas, each encourages the vital life skills of creativity, imagination, expression of feelings and ideas, the ability to work in a team and to communicate. Their impact on your child's wider learning is influenced by the way we teach these subjects so holistically.
Our Creative Arts Centre build continues it's rapid progress, emerging from un-used lawn space to become a striking feature in Downsend's landscape. Take a look at our timelapse video to see the story so far.
Drama is taught throughout the school. We believe Drama is vital to pupils' development as it enhances personal qualities such as confidence, imagination, problem solving, empathy, social skills and concentration – as well as the school's key objectives of communication, creativity, collaboration and critical thinking. Children of all ages at Downsend can sign up to Drama clubs, take LAMDA lessons, participate in performances and enjoy watching performances created by other year groups or outside companies. When possible, we organise several theatre trips every year. We produce several high quality school plays per year, which will be enhanced by the opening of our new Arts Centre. In the senior school, children have the opportunity to work backstage as well as onstage for school plays. Our Drama provision continues to grow and expand as the school does and we strive to place enthusiasm for and enjoyment of Theatre at the heart of our school!
Music too, is seen as an integral part of life at Downsend. Learning to play and appreciate music encourages teamwork, a sense of group identity and the ability to be creative. Music helps to develop self-confidence and social skills, as well as supporting learning in other subject areas. As part of the curriculum, all children will be introduced to percussion and singing, recorder and basic notation. This then progresses to the flute, trumpet, clarinet and violin. In year 4, we introduce the joy of the ukulele, and in year 5, the opportunity to take part in the Young Voices concert at the O2 Arena.
But music is not simply part of the curriculum, it is at the heart of Downsend's ethos – with the highlight of our year being Downsend Rocks, featuring our entirely student-led Rock Bands. It's a no-holds barred musical extravaganza of rock – and a whole heap of fun for pupils, parents and staff too.
Art and Design is the final component of our balanced and well-rounded approach at Downsend. We aim to challenge pupils to be imaginative, to express themselves but also to hone their problem-solving skills. We do this through a rich and varied programme of timetabled and enrichment opportunities, exploring themes and ideas, materials, and processes  – encouraging both high standards and enjoyment in tandem.
Our approach to creativity is what makes Downsend so inspiring.