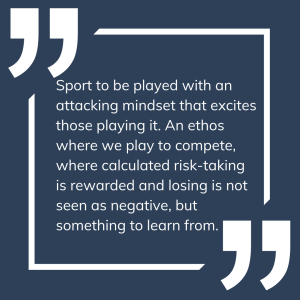 Sport is part of our DNA
From supporting budding athletes through an elite pathway to providing all pupils with the opportunity to represent their school through competition, the aim is the same. To promote positive wellbeing and develop character and resilience that comes through participation in sport.
Our ethos has been commended time and time again. Shortlisted in the Independent School of the Year Awards 2022 for Sporting Achievement (following on from a Finalist position in 2019), we are proud of our reputation for a holistic commitment to sport.
---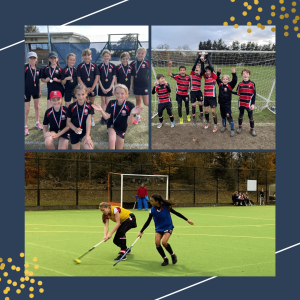 A wide range of sports on offer
We love sport, and so create the opportunity for pupils to try a wide range of activities.
We offer Football, Rugby (in specific age groups), Cricket, Hockey, and Swimming alongside Athletics, Gymnastics, Badminton, Basketball, Cross-Country, Biathlon, and Tennis. Depending on your child's age, we'll focus on the development of different skills – from gross motor skills and coordination at Little Downsend and the Junior School, to agility, cardiovascular endurance, and power in the Senior years. We focus on a holistic approach to sport, teaching the importance of movement alongside the fundamentals of nutrition and an understanding of the human body. All pupils have at least 3 hours of PE/Games a week as part of the curriculum, with opportunities for extra-curricular clubs and matches.
---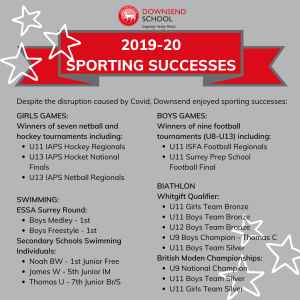 A track record of sporting success
Year after year our teams surpass themselves, showing grit and determination across the sporting spectrum. We are unbeaten in many sports, and always compete to win! Our sporting successes, even amidst a pandemic, are significant.
We featured in The Cricketer's top 50 Junior schools for cricket and have been shortlisted for the Independent Schools of the Year Award for Sporting Achievement 2022
We were also recently crowned ISFA U11 National Champions 2022 following a brilliant year of football for all age groups and an IAPS U13 National title in the Autumn.
---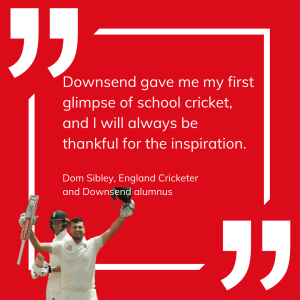 Inspiring alumni
Many Downsend pupils have gone on to achieve significant sporting success. We are proud to count Dom Sibley, England Cricketer, as an alumnus of the school and local area. As a school, we cheered Dom on as he achieved his maiden test century in South Africa in 2020, and he continues to inspire us all. Read the full article here.
---
A #TeamDownsend Ethos
In 2019, we introduced a sporting ethos to inspire pupils, staff, and parents. We encourage our incredible athletes to work as a team, creating positive relationships, to excite and engage, to set high standards and to compete to win.
Our RESPECT ethos unites our community in a love of the game for all the right reasons.
---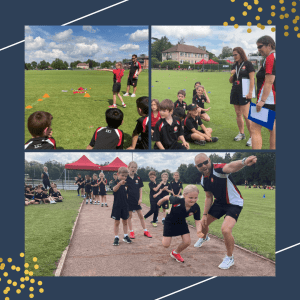 A dedicated, professional sporting team
Our PE and Games Team hail from some of the best schools in the country for sport. Headed up by Grant Lawrence, former Lead County Rugby Coach for the Rugby Football Union, coach of the DDP and EPDG at Harlequins and Teacher of the Year 2015, the team are all specialists, dedicated to getting the best sporting performance from every pupil.
Read more about a few of our PE and Games Team,  Grant Lawrence, Marie Seivewright, Thomas Hyam, Marcus Bell, Emma Magee and Craig Moore in our Teacher Spotlight Series.
---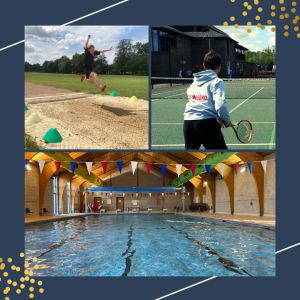 Fantastic Facilities
Downsend pupils benefit from:
Extensive football, rugby, rounders, and cricket pitches
A 200m grass athletics track
Four outdoor cricket nets
All-weather Astro turf
A hard playing surface allowing for 6 tennis courts and 4 netball courts
A 25m indoor swimming pool
Full-size sports hall with facilities for basketball, badminton, netball, 5-a-side football and 4 indoor cricket nets
Sports pavilion, providing additional changing facilities, a café, and spectator areas.
Take a look at our 360 tour.
---
Victory at the Cognita Home Games and our approach to lockdown fitness
We know how important it is to maintain a positive approach to fitness during each lockdown. Live 'Shake up to wake up' sessions were scheduled three times a week, often with over 200 participants at a time. We also delivered a variety of sporting opportunities during the week to encourage as much participation as possible, including a 1km run challenge, 'Yoga-cise', a themed workout of the day and online match analysis. Recognising the importance of keeping up technical skills, online lessons and challenges were set for different sports, which were particularly valuable for stronger athletes. The engagement from students was amazing with some even taking the initiative to organise their own running challenges to raise money for their local NHS heroes.
We also led and participated in the Cognita Home Games – a global event held in May 2020 involving a series of challenges for the entire school community to do at home.
Over 100 pupils joined Grant Lawrence for an optional online workout, using fun fitness games incorporating all the CHG movements that the pupils would be expected to complete. Games lessons in the afternoons also included a fitness focus based on activities for the global competition.
Downsend emerged as the overall winners across 67 partner schools within Cognita and two pupils received commendations for outstanding performances.
---