What's that you're reading? Mrs. Tucker – Secretary at Little Downsend Epsom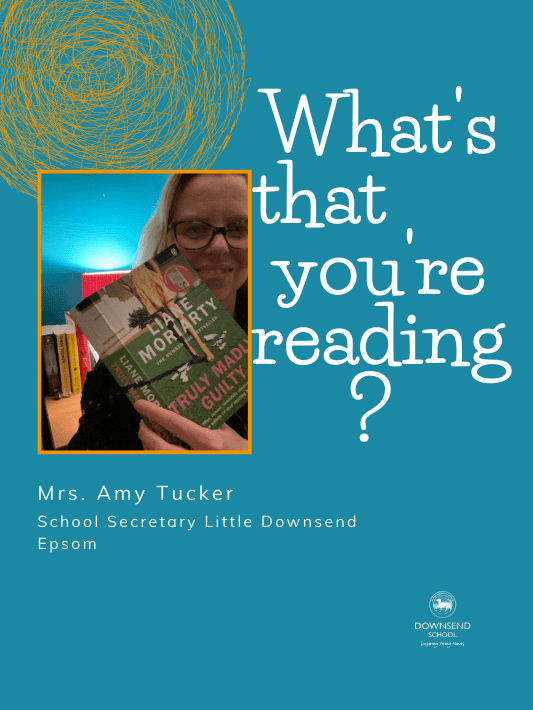 In this week's instalment of  "What's that you're reading?" we are meeting with Mrs Tucker, Secretary at Little Downsend Epsom and we actually mention two books, one by Liane Moriarty who has written the eight novels, including the New York Times bestseller "Big Little Lies" which was adapted into a television series for HBO featuring Reese Witherspoon.
What are you reading at the moment or what was the last book you read?
Have only just started reading "Truly Madly Guilty" by Liane Moriarty, so probably best to talk about the last book I read "Three Women" by Lisa Taddeo
Give a brief synopsis. What's the main message of the book?
It is quite simply the story of three women. It is a narrative non-fiction account of three different women and their desires and the complexities behind them. It is brutally honest, confronting and unapologetic. Some are referring to it as a feminist classic.
Would you recommend it to the Downsend community and why?
Yes, but it is confronting and may not be everyone's cup of tea! Definitely not one to leave lying around for prying eyes …
Do you see elements of yourself in any of the characters?
Yes, I think all women will identify with some element of each character or relate in some way to experiences they have had themselves.
Did it make you cry? Or laugh? Or think?
It made me think. I even questioned some of my own viewpoints and perceptions, and it resonated with me for some time afterwards.
Please share your favourite quote or short extract from the book.
"The train is moving out of view, its tail slipping like a sword into the trees. She stands up straight into the full frame of herself, tries to tune out the voices, and watches it out the window, all of it going by so fast."
"We don't remember what we want to remember. We remember what we can't forget."
"Women shouldn't judge each other's lives if we haven't been through one another's fires."
"The gate that guards the reality of one's childhood is high and existentially heavy, and merely opening it takes more energy than one expects."
Why/when do you read?
I read to escape and relax. At night before bed, or in my hammock in the garden if it's sunny.
How does reading help you?
It quietens my 'Monkey Mind' and fuels the creative side of my brain.
Is there a particular genre of book you find yourself drawn to?
Lately, I have been reading books that seem to have a parallel narrative with intertwining characters. Unwittingly I have recently steered towards Australian authors such as Liane Moriarty and Trent Dalton. I think I am perhaps feeling a bit homesick for family and friends, and the nostalgic Australian references help fill that void.
What is your favourite children's book? Did you have a favourite book or author, growing up?
Charlotte's Web and Little Women. Then when I was a little bit older The Outsiders by S.E Hinton.
Name a book that's had a lasting impression on you and tell us why?
'Boy Swallows Universe ' by Trent Dalton is one of the most imaginative and mesmerising books I have read in some time. His writing is hypnotically poetic, and he finds beauty in such harsh adversity. A story of hope in dark times.
Published on: 28th April 2021