Downsend win the 2018 National Science Quiz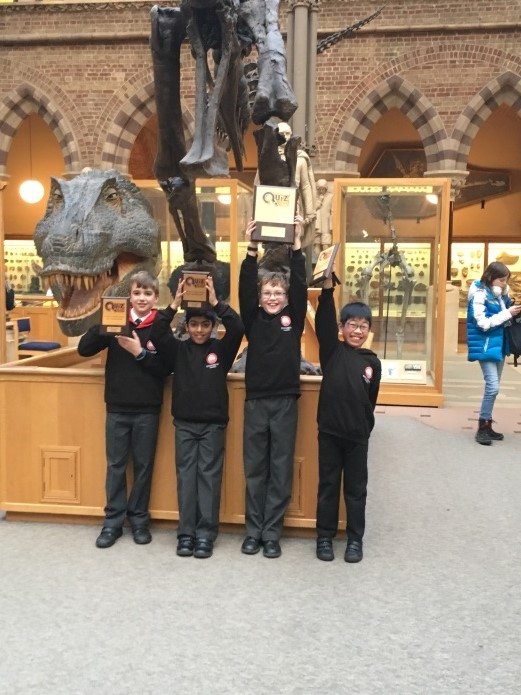 Downsend win the 2018 National Science Quiz
On 26th January, the Downsend Science Quiz team travelled to the Oxford University Museum of Natural History to compete in the national finals of the Quiz Club Science competition.
Having won the first round at Danes Hill with over 2000 points and the semi-final regional competition with an amazing score of 2170 they knew they stood a chance.  But would they keep the accuracy up?  Could they cope with the pressure?  The team quickly settled towards the top of the 12 competing schools vying for 1st place, held by Monmouth School in the first half.  At half time, with a few big losses but also some exceptional answering, Downsend  were sitting comfortably in 2nd place with Westminster Under behind in 3rd.
The third round was both exciting and extremely close, with Downsend overtaking Monmouth and holding the lead with just a 10 point difference.  With ten questions to go, Downsend maintained their lead with one question difference between the top two.
They held their nerve, working well as a team – discussing the tricky questions carefully, listening to everyone's ideas and slowly but surely pulling away to open up a gap of 100+ points from Monmouth to secure victory.
The Downsend team scored the highest ever final score in the 10 year history of Quiz Club – 2460 points out of 2700 with a staggering 91% accuracy.  Amanda Blair of the National Science Quiz Club said "What an amazing score the Downsend team achieved – absolutely staggering to think how young the children are and how much knowledge they have".
Head of Science, Tamsin Groocock says "I am delighted how well this talented team of Scientists have worked together to achieve such an amazing result. I am proud to say that Downsend are the National Champions of Quiz Club Science 2018."
Published on: 1st February 2018