Teacher Spotlight – Michelle Sehgal – Teacher of Science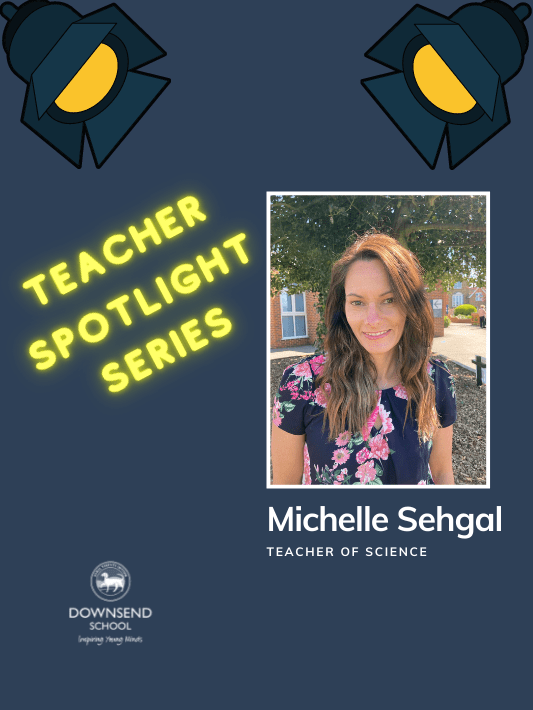 Do you remember your first day at Downsend? Can you tell us how was it?
My first day at Downsend was in September 2010. Although it was my first day as a teacher, both my boys were pupils at the school, so I knew a few faces. I was lucky enough to work with an awesome Year 4 team who were so welcoming and supportive. I made strong friendships straight away and knew I would love working at Downsend.
What did you do before you joined Downsend?
I have always been a teacher since leaving University. I've had numerous teaching jobs and roles in a range of different schools within the home counties. I started in London, then worked in a village school in Kent where I was Head of Games. I then moved to Berkshire and was Head of Science and Head of Year. I took a couple of years out to have children (only to return to find smartboards had been invented) and then worked part-time in a local Surrey school as Head of Science. I have enjoyed every school I've worked in, schools are such wonderful communities. Downsend has been a big part of my life and for my boys', so many fond memories over the last 11 years and hopefully more to come.
What's your best memory from school?
As an only child, I absolutely loved being at school. My Prep School was small and like a family to me. I remember Maypole dancing every year at the Spring Fair was always hilarious fun. Hours of practising for our 5 mins of glory and it would always go wrong on the day.
When I reflect back on my Senior school days there are so many memories which shaped who I am today. I always got such an adrenaline rush from competing in sports tournaments with my Hockey or Netball team. Lots of fun was had during A Level Chemistry practicals, disastrous Biology field trips and French theatre productions to name but a few. One proud moment that stands out was being awarded the Victrix Ludorum in 5th Form after our Sports Day at Crystal Palace stadium.
If you could grow up in any decade, which would you choose and why?
Definitely the 1950's! I adore the fashion with the big Bobby Girl skirts. I love the music of that era and was obsessed with Elvis when I was younger. I even went to see The Everly Brothers in concert. It seemed like a good time to be a teenager, lots of innocent fun to be had.
What's your all the time favourite movie and why?
Tough question… depends on the genre. I'm going to say Dirty Dancing for the love story, the music and of course the dancing, sticking with that 50's theme.
If you could pass on one piece of wisdom to your students, what would you share?
Your best is good enough, believe in yourself and you can do anything you want to do. Look for the opportunities and be brave enough to step outside your comfort zone. That's when you grow the most.
Is there a quote or saying that you live your life by?
Take it one day at a time!
A fun fact we might not know about you?
I am a thrill seeker and adrenaline junky and relish any physical challenges. Yet to jump out of an aeroplane but have rappelled waterfalls, climbed mountains, snorkelled with sharks, ziplined through a rainforest, completed survival races and been on several rollercoasters, back-to-back just to keep up with my boys!
Any tips that you can share?
Turn the device off, walk away and have some downtime away from a screen. Connect with family by doing simple tasks together such as walking, cooking or working out. It's amazing the fun you can have when you're not glued to a screen 24/7.
Published on: 7th May 2021