Teacher Spotlight Series – Meet Sarah Stallard Head of Maths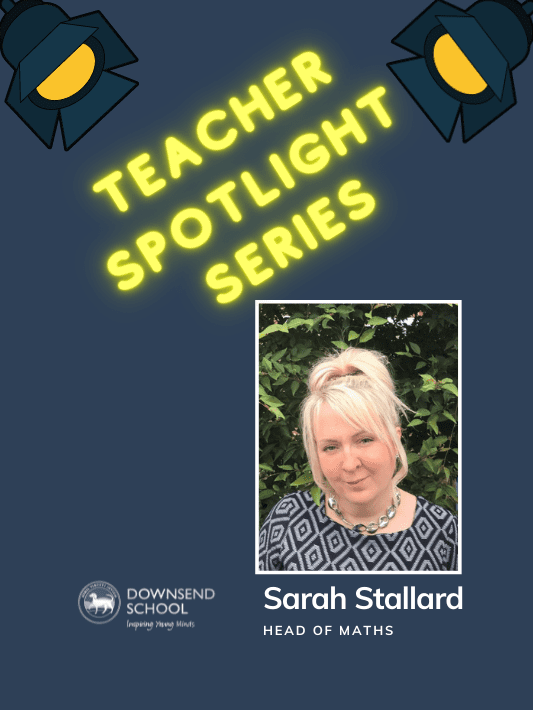 At Downsend, we are lucky to have some of the very best teachers who are dedicated to providing every child with the most innovative and inspiring learning experience.
This September we were delighted to welcome several new teachers, all with rich and varied educational backgrounds. We'll be introducing you to these new faces, and some more familiar ones, through our weekly "Teacher Spotlight Series". We're looking forward to sharing the lowdown on our new teachers and hearing their pearls of wisdom and hopefully a few good bits of gossip along the way too! Ladies and gentlemen, please meet Mrs Stallard, an animal lover who owns two super cute bunnies and a lovely cockerpoo.
Can you tell us about your first day at Downsend? 
I had a few visits to Downsend before my first actual day. I remember visiting over the summer and Mrs Mercer and Mrs Grimmer taking good care of me. Mrs Mercer introduced me to Chai Latte which she made me from Mr Slivia's coffee machine. That reminds me Mr Silva I owe you some coffees.  
My First 'real' day at Downsend was the September new staff inset. Everybody was really welcoming. Mrs Temlett looked after me well and introduced me to everybody.  
 Downsend has a real family feel and I was made to feel part of the family.   
What did you do before you joined Downsend? 
Before I joined Downsend I was teaching at Howard of Effingham. I was key stage three lead in Maths and helped develop teaching and learning, and deliver teaching training. I taught maths at quite a few schools now. So I definitely feel ready and excited about being Head of Maths.  
What's your best memory from school? 
I was selected to go on a sailing trip where a group of us sailed around the south coast. It was a great trip where we really developed our teamwork skills. Although being seasick wasn't fun.  
If you could grow up in any decade, which would you choose and why? 
I loved growing up in the 90s, the Spice Girl years  and cheesy music really were a lot of fun. The battle also of blur and oasis as a Manchester girl really was the best time to be a teenager, I don't think I would change that,  
What's your all the time favourite book and why?  
My favourite book is The boy the fox, the mole and the horse. It is full of lovely inspirational quotes about mental well being and kindness. Its one of those books you can dip in and out of when your feeling a bit sad or down. It definitely helped me during lockdown to put life into perspective. 
If you could pass on one piece of wisdom to your students, what would you share? 

Be the kind kid, you never know really what others are going through in life so just be kind to one another. 
Is there a quote or saying that you live your life by? 
Be 10% braver. I think just being that little bit brave will allow you to try new things and eventually you can achieve anything.  
A fun fact we might not know about you? 
That we were a RAF military family up until recently so we have lived all over the uk. Teaching all over the UK has been a brilliant experience, but we are glad to have just bought our forever home in Surrey.  ​
Published on: 17th September 2021