Year 8 Play – The Addams Family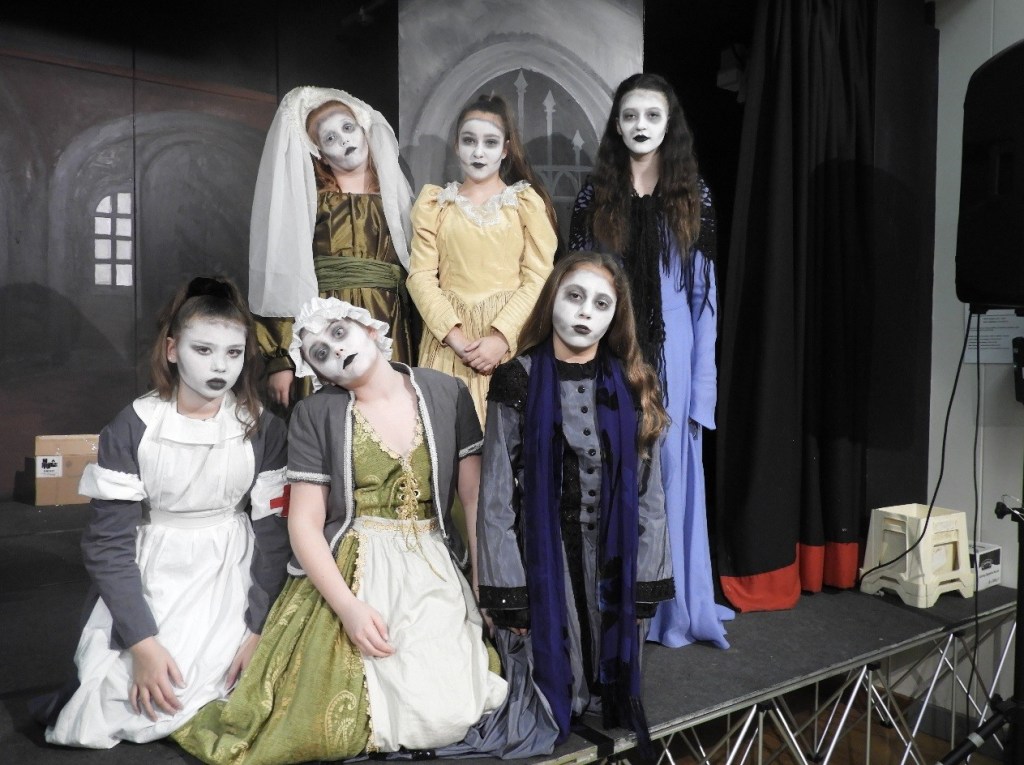 Year 8 Play - The Addams Family
They're creepy and they're kooky…mysterious and spooky…they're the children from Year 8 who entertained us all last week with their production of "The Addams Family – The Musical".
This Broadway and West End show was adapted for schools and so crammed an awful lot of plot and no fewer than fourteen songs into an hour and ten minutes. The young actors worked hard to make sense of all this and the final performances were memorable and hugely entertaining.
At the centre of the play were the main cast, led by Warren H as Gomez Addams and Leah F as his wife Morticia. These two produced a depiction of a marriage that may have been uncomfortably familiar to many in the audience! Their love of squalor and penchant for death are shared by the other members of their crazy family, such as Katherine V as the bizarre Grandma and Jack D as the stoic, barely living butler Lurch.
The musical director, Mrs Allison, worked wonders with a cast who had varying levels of experience with singing in public. Some of the more memorable numbers included "Pulled", where Zoë S as Wednesday gave a professional performance in a beautiful love song involving bird slaughter and sibling torture, as well as "What If?" where Thomas M as Pugsley blew everyone away with his desire to be maimed.
Mrs Hamer acted as choreographer and her mark could be seen on numbers such as the opening "When You're An Addams" and the beautiful-yet-bonkers "The Moon and Me" in which the memorably eccentric Ben W as Fester expressed his love for the Moon.
The plot entails Wednesday falling in love with a supposedly normal young man from a supposedly normal family. Matt Y, Jake W and Sofia H played the Beineke family and carried many of the moments of drama as well as fish-out-of-water comedy.
The whole of Year 8 was involved in the production. Those not mentioned above either worked backstage or appeared onstage as Ancestors (the chorus of the musical). These zombie-like characters had a lot to do during the show and helped to make it all look appropriately weird. Meanwhile, the lighting, sound and backstage tasks were all run by the children (with help from adults such as Mr Bradfield) and they did these jobs extremely well. Five members of Year 7 also volunteered to join in and their contributions were much appreciated.
There were two significant innovations this year. One was the extensive use of make-up, supervised by Miss Meg Crow but applied by Miss Helen Newhall and four members of the Year 8 backstage team. The children were transformed! The other was the use of a live band, in which adult professionals sat side-by-side with talented members of Year 6.
As director, I feel that this was perhaps our most accomplished production since I joined the school two years ago. This is my third play with this year group and it has been a pleasure to see them grow and mature as talents. We will miss them next year.
Chris Bryant
Published on: 30th November 2018